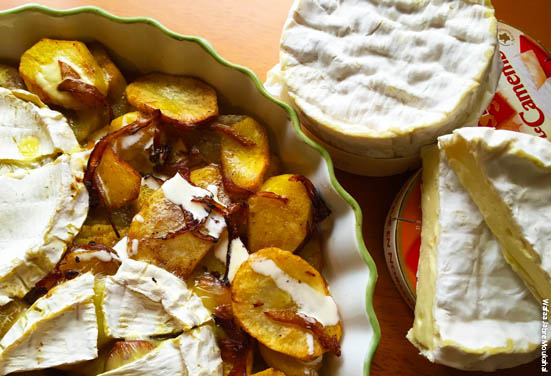 Ingredients for 4 persons ( Tartiflette ):
1 kilo peeled potatoes cut in circles
2 Reblochon or Camembert cheese cut in the middle to make 4 pieces
1 bunch cilantro
1 small onion chopped in thin slices
4 crushed garlic cloves
3 tbsps. butter or vegetable oil
1 small can fresh cream
White pepper, cinnamon, nutmeg, cloves and salt
Directions
Boil the potatoes in salted water for 10 minutes. Stream, then put them in a tray in the oven with 2 tbsps. of butter or vegetable oil. When golden, remove from the oven.
In a pan stir the onion in 1 tbsp. of butter or vegetable oil. Add the crushed garlic and the cilantro. Stir again till grilled then dribble the fresh cream over the other ingredients. Cover with Reblochon (Camembert) cheese and place the tray in the oven again on high temperature. Remove when the cheese starts melting and serve.