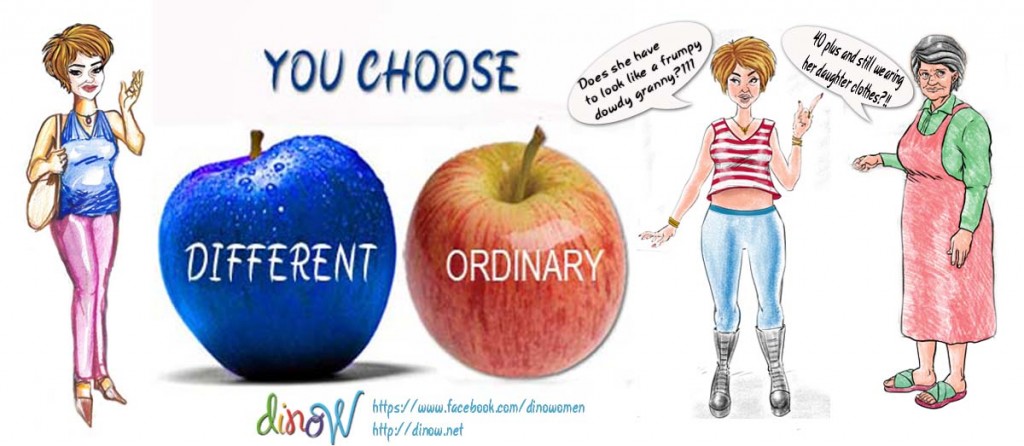 At 40 + choose the granny look, the wannabe-my-daughter or your own elegant look?
Are you sticking with trends of yesteryear? Wearing clothes that fit you in outdated ways? Short hemlines and high waist with a belt to show off your belly? Heels that betray shoes worn a decade ago? Yes, they were expensive 8 years ago but… they show their age and so do you.
Is your hair cut the same since "happy days"? You're no Anna Wintour (Vogue). Get a more trendy one and lose the tons of spray. You're not wearing a helmet or a frozen cask.
No? That's not you? You're more on the juvenile side? The cheerleader type? Always following the latest teenage trends, the tighter the better, secretly trying your daughter's outfit and buying clothes "for her" that you know you'll wear yourself? Do you change your hair color every month insisting on yellow, fuchsia or green strays? Why not? They look wonderful on
your daughter's friend!
Grannies aficionados! You don't have to let go even if you have grandchildren. Your family deserves better. YOU deserve better. When you hit 90 and you're too tired to make a move, let the hair go gray and wear loose clothes and comfy shoes…or not.
Here are some tips to lose the granny look:
Beware of old lady patterns. If it reminds you of something your grandmother would wear then throw it. Particularly small floral prints as you get older can look frumpy.
Avoid the nurse uniform as well.
Don't wear clothes too large. Only your pajamas can be large
Lack of jewelry or very small jewelry will age you
Getting older rimes with getting bolder, more confident with accessorizing
No to plain clothes. Yes to accessories and focal point
No midi skirt unless you have super long legs
Maxi or knee-length dresses and skirts are the trendy look
No to comfy no-style shoes
Put a sprint to your walk and walk tall.
Get a trendy hair cut
Don't put clothes that make you look like a tent
Baggy clothes make you look matronly and old
Wear trendy eyeglasses
Cover dark spots and sun-damaged skin with foundation and concealer
DON'T overdo it with silicone stuffed lips. Halloween is over!
Beware of the old hag attire: old handbag, dated purses and shoes
Ditch you "Mommy Jeans" look. Too high cut, bulging tummy and hips
Go for darker jeans. More elegant
Pleaaase wear a new, decent, supporting and fun bra. Saggy, sloppy busts and boobs add 15 years to your current age
"Teen-agery" looks are ridiculous when you hit middle age
Don't go scaring your teen age daughter and her friends by adopting their looks and trends:
Steer clear from frills, fluffy clothes
Tight, second skin clothes are not for your age no matter how good you think you look in them
Avoid too many bows
Throw Hello Kitty, Barbie accessories or give them to your granddaughter
Unless your midriff looks like a 16-year-old perfect one, don't expose a bulgy waist
Don't wear very high heels unless you're sure you can walk gracefully
Too much bling bling puts you in the slutty category.
Vintage, hippy styles are to be worn with caution if you want to avoid the peasant look
Elegant doesn't rime with boobs out of a smaller bra size
The look on your daughter's face will tell you if you nailed the perfect outfit for a night out. A hesitant answer means YOU DON'T LOOK GOOD!