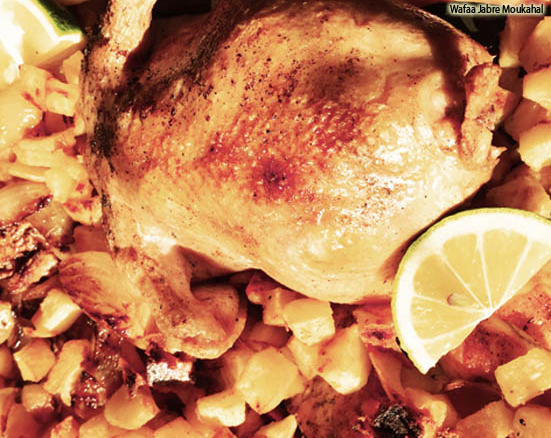 Ingredients for 4 persons (Roasted chicken with potatoes)

1 chicken or 6 pieces of chicken breasts
6 big potatoes
4 big onions
4 tbsps. butter or vegetable
oil, canola oil
1 tbsp. pressed lemon
Salt, pepper
Directions
Put the chicken in a pot and roast in 2 tbsps. of butter or oil. When the color turns golden reserve it. Cut every onion in 6 big pieces. Toss them on the oil. When they become golden remove them. Recover the oil and pour in an oven's pan. Add the remaining butter or oil and place the potatoes. Put in the oven until they turn crusty.When done, add the chicken and onions.
Sprinkle with lemon juice and put in the oven for 20 to 25 minutes on a medium fire. Season with salt and pepper. Check the chicken with a fork to make sure it's fully cooked.
You can add a bit of water if you feel it's getting too dry.