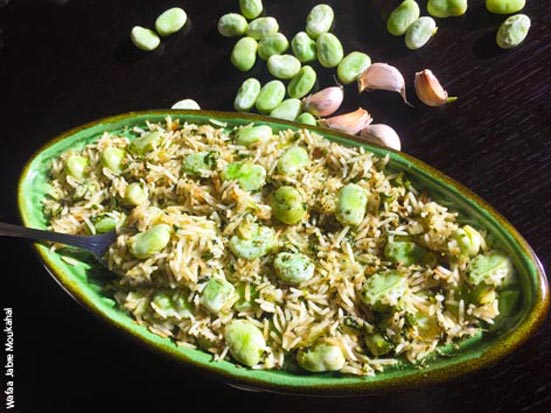 Ingredients for 4 persons ( Fava beans & rice)

 500 grs of fresh peeled Fava beans or 1 frozen bag of them
2 cups basmati rice
1 bunch of coriander
6 garlic cloves
1 small chopped onion
1 cup water
1-teaspoon coriander powder
1-teaspoon coriander dry leaves
salt, white pepper
 
Directions
Cut the onions in small pieces. Crush the garlic cloves and mix with the chopped coriander. Toss the onion, garlic and fresh coriander in the pot and stir in olive oil until you start getting a golden color. Add the rice and stir until they start sticking to each other.
Spill the fava beans over them and stir for 3 minutes. Season with salt, pepper, and coriander.
Pour the water over them and wait till it boils to reduce the heat. When all the water is gone put on a very small fire until you see holes forming in the rice.
Turn off the fire and keep it covered for 5 minutes.
Place in a plate and serve. You can sprinkle with some chopped parsley.