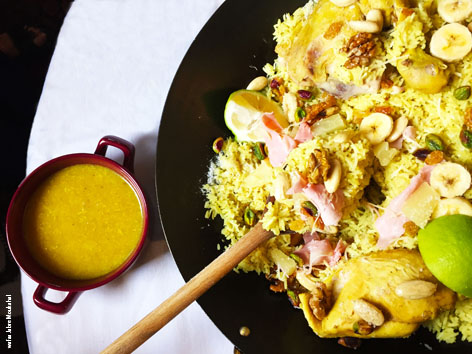 Ingredients for chicken curry:
1 chicken
5 or 6 tablespoons of curry
3 cups of basmati rice
300 grs of ham or turkey
150grs of grated mozzarella cheese
150 grs of grated gruyere cheese
1 pineapple can
5 bananas
100 grs. pistachios
100 grs. almonds
100 grs. walnuts
300 grs. shredded coconut
1 coconut milk can
2 tablespoons of butter or canola oil
3 tablespoons of raisins
1 tablespoon of cornflour
pepper, cinnamon, laurel, small onion
Curry juice: pour some of the chicken juice, add 3 tablespoons of curry, half of the pineapple in small  pieces with its juice, half of the coconut milk , 2 crushed bananas and 1 tablespoon of cornour.
Directions
Put the chicken in a presto with cinnamon,pepper, salt, 2 laurel leaves and 1 small onion for 20 min. Open the presto and add the curry. Let it simmer for 10 min. Cook the rice with 2 tablespoons of butter or canola oil until the rice sticks together.
Pour 4 cups of the chicken juice over the rice. Sprinkle half of the shredded cooconut and add half of the coconut milk.Reduce the re when it starts boiling and turn o when the water dries out and you see holes in the rice. Keep covered for 5 min. Grill the nuts in a pan. Cut the ham in small pieces and the bananas in circles.
In pan put half of the rice, spread the ham over it then the grated cheese. Cover with the rest of the rice and add the chicken. Garnish with 3 bananas, half of the pineapples, raisins, nuts and shredded coconuts.