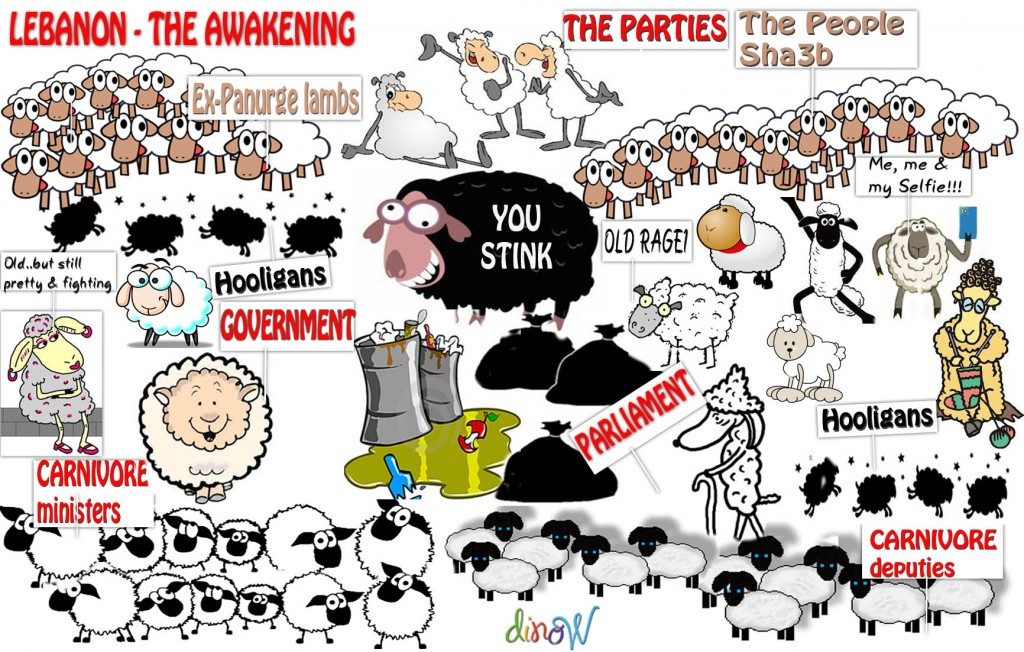 Finally, after decades of bending our necks, dropping our shoulders and morphing into "mops" for our prestigious leaders (sic)!!!!???, most of the Lebanese have experienced a case of acute revulsion and "fed upism" to the tears of being squeezed to the bones by our darling government, parliament, parties,politicians, wanna be politicians and the likes.
Enough humiliation, Enough arrogance, Enough boooooring, idiotic, stupid, arrogant, talk shows, political discourses, empty worrrrrrds, meaningless sentences….Enough TALKS!!!!!
Do you ever hear yourselves talk? Do you ever record or listen to your humungous lies? Of course not! You're so busy eating, wining and dining, slurping, and enjoying putting your teeth into young, old, raw, ripe flesh! CARNIVORES for ever, YOU spend your time conniving, acting, grimacing (we can't call it a smile!)TALKING and….counting your money, OUR MONEY!!! Millions or billions depending on how big of a leech you are!
The GARBAGE was the final straw! That did it! We can put up with everything (we've proved it right?) but Hygiene, smell, health…. Are too much to bear on top of other monstrosities we've been enduring throughout the years. The rage has been growing in crescendo. Hunger, poverty, ISIS, Massacre of soldiers and foremost Disdain, Disregard and the complete Arrogance of pulling your filthy strings to divide the cake over our heads were too much to swallow. Our people are becoming poorer and hungrier by the hour and simply can't take it any more. YOU don't care!
YOU STINK! But of course you do! It's time to tell you how much you stink but…
IT'S NOT YOUR FAULT.
WE MADE YOU KINGS! WE ELECTED YOU OVER AND OVER! Mea Culpa! Mea Culpa! Mea Culpa!
We deserve YOU. "We are governed by imbeciles who are followed by blind or greedy citizens". Are we stupid, lazy, catatonic or simply followers who need to run behind Zo3ama (leaders) who think for US, decide for US, rule US, CRUSH US? Did we elect you because you are honest, smart or well educated? Nenni! Nope! We did it because:
OUR family has elected YOU since forever, it's a tradition.
YOU promised us jobs
YOU promised money
YOU paid money
YOU are like royalty: The sons inherit the fathers or is it mice?
YOU have the power, the guns, the mafia, the militia, the stupid followers (during the war and…after)
IT'S EASIER TO FOLLOW THAN TO GROW A BRAIN.
HOWEVER…
We proved that it's never too late to say ENOUGH IS ENOUGH and to finally find our tongue and express our own opinions!
We hope it lasts, we hope we can change the centuries of PLACIDITY, COMPLACENCY, FEAR and SO MUCH CORRUPTION!
THE COMATOSE HAVE RISEN AT LAST!