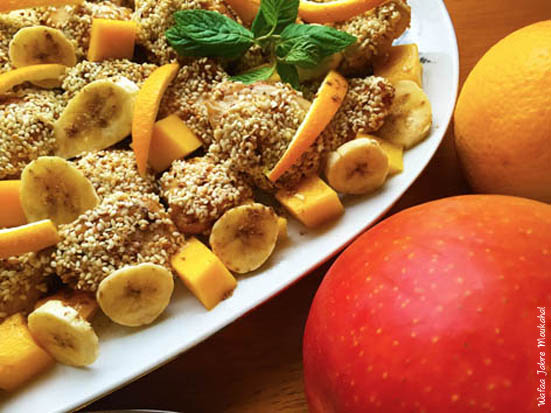 Ingredients for 4 persons ( Fruity chicken sesame )

1-kilo chicken breasts cut in big cubes
250 grs grilled sesame seeds
2 oranges diced
2 mangos diced
4 bananas cut in circles
2 oranges skins' cut in ribbons
1 small can of fresh cream
1 small can of coconut milk
Vegetable oil
Honey
White pepper, salt, cinnamon, nutmeg
Directions
Season the chicken with white pepper, salt, cinnamon and nutmeg.
Fry it in vegetable oil until cooked. Stream and put on absorbent paper to drain the oil. Dip every cube of chicken in honey then in the sesame seeds plate
Put in a plate and garnish with mango, orange, banana and orange ribbons.
Sauce
In a pot put 1 diced orange, 1 diced mango, 1 orange skin cut in ribbons and 2 bananas cut in circles. Pour the fresh cream and the coconut milk and put on fire. Let them cook for 10 minutes on a low fire after the mixture boils.
The chicken can be put in a pan going to the oven with the sauce or on the side.
This dish is served with coconut rice