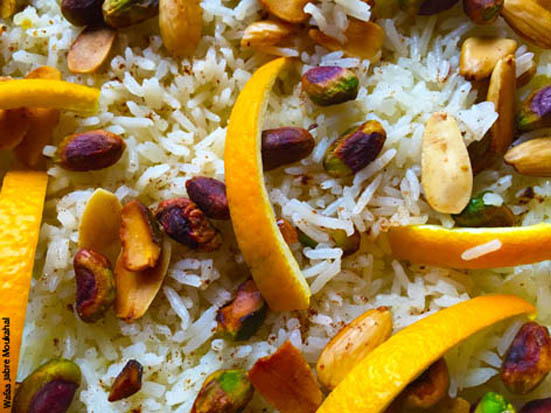 Ingredients for 4 persons (Coconut rice)

2 cups basmati rice
3 coconut milk cans
2 cups grated coconut
2 tbsps. vegetable oil
100 grs pistachio
100 grs peeled almond
1 orange skin cut in ribbons
White pepper, cinnamon, salt
Directions for 4 persons
Put the vegetable oil in a pot and stir the rice till it starts sticking together. Pour the coconut milk and reduce the heat when it starts boiling. Season with white pepper, cinnamon and salt and turn the heat off when you see holes in the rice. Leave covered for 5 to 10 minutes. Add the grated coconut and mix.
Put in a plate and garnish with pistachio, almonds and orange ribbons.
Fruity coconut rice
It's the same recipe but you garnish with mango and orange cubes, banana circles and grated coconut.